Nov 13, 2006
The Miracle of New Life
On Friday evening our youngest son Phil called from Portland to say his wife Emily was at Kaiser in labor, and that our new grandson was on his way! It took us about ten minutes to get tickets for a morning flight up (and one back that evening, for Susan was to chair her California Poets in the Schools Board meeting on Sunday).
After 23 hours of labor he stopped coming out. His 14″ diameter head wasn't moving through, so the doctors did a C Section and there he was at 3:17pm Saturday.
And so the miracle of Reid Carlton Sibbet begins in the outer world. Here he is in all his 8lb. 9 oz glory.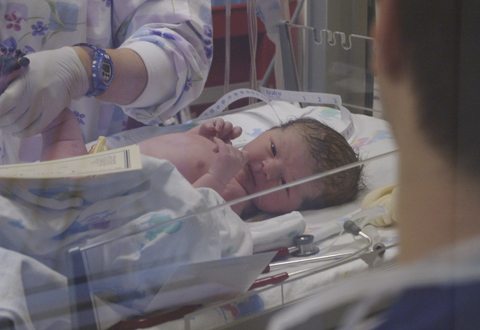 For the first time I was able to watch the entire process of "cleaning up" a baby through a window into the nursery. This all happened in a separate room with Phil, even though we were Lamaze parents doing natural childbirth.
As I watched "baby boy Carlton (Phil wouldn't tell us the name, but wanted Emily to later), I was in full spectrum feeling. On the one hand, the miracle of a birth held us firmly in its transcendental hands. From a pit of worry for Emil when we heard that she would need an operation, we all bounced to wonder and ecstasy as the little boy appeared in Phil's arms. It didn't seem to matter that he was on the other side of soundproof glass. His little eyes blinked and hands waved, and some deep vibration set up with all the buried memories of all of our first experiences outside the womb.
I then began to look at what was happening. He was in a room FULL of technology, and resting in a small cradle with a heat lamp element overhead. Right next to him was a stethoscope. In those first minutes after being held by Phil he was measured, weighed, swabbed with disinfectants, footprinted, injected, ointmented in the eyes, foot-washed, body-washed, hair-washed, eyes-cleaned, and then swaddled.
I tried to imagine other settings and traditions. From before recorded history, babies have been coming into the world and ceremonies have been performed upon their arrival. So this, it seems, is ours.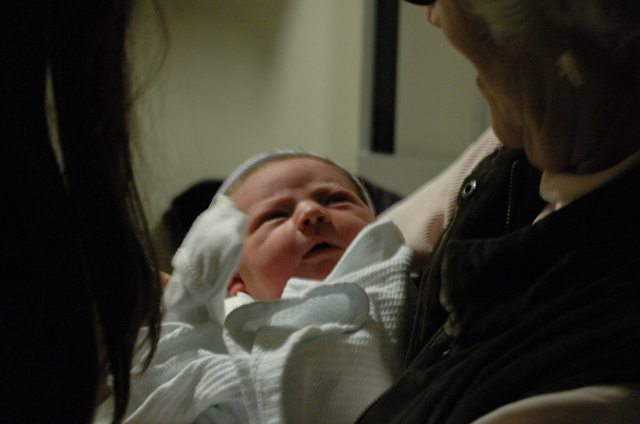 Now we have the pictures, and the incredible feeling of holding little (big) Reid. There is so much to appreciate.
I remember a moment after holding Reid when I realized he will be 20 in 2026, the time when many predict our climate collapse will be in full force. A pang of resolve shot through me. On the way back to our hotel Susan said. "You know," all the boomers are going to start being grandparents!"
I thought of the force of this demographic cohort, with us at the leading edge. We'll transform what it means to be elders, and yes, perhaps transform what it means to be responsible for the generations that follow us. So far our scorecard isn't very good. The very technology that may have saved Reid casts its long, consumptive shadows.
And so the peaks reveal the valleys, and the sun brings the dark shadows. Reid's coming quickens my pace, my love, and my worry, all at the same time. Such is the miracle of being fully alive.