Jan 03, 2010
New Years Day with My Dad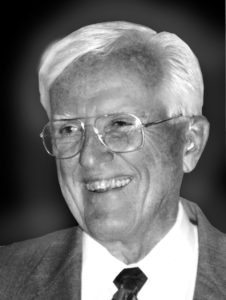 My father, the Reverend Laing Witherspoon Sibbet, passed away this New Year's Day at Sutter Solano Medical Center, in Vallejo, California. His death, as did his life, touched me deeply, and I'd like to share some of this story. He was 93, and up until his last sermon on Christmas Day in 2008, a full time Congregationalist pastor. I'll begin at the end, with what I wrote to the family the evening of his passing.
"Dad peacefully left his body tonight at 8:05 when he stopped breathing at the conclusion of a ceremonial last supper we held for him in the hospital. The day was a graceful ballet of our family—gathering and forming a loving container for his passing.
He began to doze midday, after some animated attempts to talk and relate to his great grandson, Benjamin in the morning. (A severe stroke the prior day had left him unable to talk or move anything on his right side.) As the afternoon wore on his temperature cooled, his heart slowed, and the doctors were pretty sure he would be passing within the next day or so. At 6:00 we read him a very moving goodbye letter from his grand daughter Sage. Not wanting to leave him at this point, but needing dinner, we decided to have a "last supper."
A nearby Lucky Store provided unsliced sourdough loaf, grape juice, a candle, cineraria in full blue bloom, and tapioca pudding, his favorite. His wife Joanne, my brother James and wife Carole and I created a little altar on the hospital bed at his feet and stood around him in circle as he labored to breathe. He wasn't in pain, and looked like he was going.
James read the communion ceremony and we broke bread. Joanne held some up to him as we broke ours and remembered the years of ceremony we all know so well. We then drank the grape juice that we Protestants use instead of wine. The taste brought memories of years, as young children, of sneaking little sips from the left-over cups after communion, and of taking it seriously by junior high. We then read from the Psalms, the 100th, and then the 90th — a prayer of Moses to God about the meaning of life in the face of the sweep of God's immensity. The prayer moves to a climax with:

"All our days pass away under your wrath; we finish our years with a moan. The length of our days is seventy years— or eighty, if we have the strength; yet their span is but trouble and sorrow, for they quickly pass, and we fly away."

I didn't know this Psalm, or why I read it, but at that line Carol said "he's not breathing!" And he wasn't. We all held each other and waited. He gasped and we startled. "He knows it okay to go," Carol said. Together we then all said the Lord's Prayer and the 23rd Psalm, and Dad stopped breathing altogether. Quietly— our hearts full and tears flowing—we sang Away in the Manger and felt a quickening, almost a shudder of flight, and then silence.
We sat in the dark for about 20 minutes with the candle, and our memories, profoundly moved by the power and grace of what we had just experienced. Was he really gone? Was he guiding us in this dinner? Was God? Or did he just sense at some subtle level that our field of energy was finally ready for his departure? Is any explanation necessary at all?
We finally told the hospital staff around 8:30 that he had died. "When did he die?" they asked. "8:05 we said." "And you didn't come and call us — that's never happened before!" they were amazed.
As I write James and Carol are with Joanne back at her place in Benicia. I'm listening to Brahms' German Requiem with Susan. My heart is full and actually joyful, for Dad's hope and wish was that he would live a full life and then drop quickly. His wish came true. And his spirit is now with us all."
Weekend After Christmas
We'd actually seen Dad recently when Susan and I spent the weekend with him right after Christmas. He had been slowing down since he and Joanne moved to Benicia in January. Going from being a full time pastor to being in a community where he knew no one left him adrift, I think. But it is the custom of retiring pastors to leave their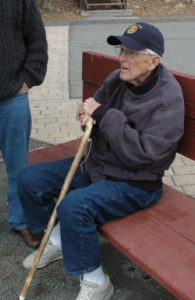 communities, and Benicia is equidistant from his and his wife Joanne's children. It's been a blessing that he was closer this year. My brother John and his wife Ann came down from Placerville that same weekend and after a slow walk around Windward Cove  (the name he had excitedly discovered for the part of the Carquinez Straits their home faces) we had convinced him to start writing down some of his stories for us. We thought that if he had followed the pattern of writing a sermon every week for all these years, he might be able to continue the habit by writing for all his direct children and grandchildren, of which there are 23 at last count.We didn't want him to stop.
It was our good fortune to get some of the stories directly that weekend. Not surprising in retrospect he was thinking back over his life. Dad was born in Washington DC to David Harper Sibbet (my namesake) and Jessie Gould Laing, both back from the Spanish American Wars in the Philippines. Dad was full of reflections from that time. My grandfather was an attorney. Grandmother was an educated woman and writer from Michigan. She loved to tell stories to her sons.
"Every Sunday afternoon without fail Mom and Dad would take my older brother James and I out to see something interesting" Dad said over dinner. "And there was lots to see in Washington DC. We'd go down to the Chesapeake Bay and watch birds, or to the Lincoln Memorial, or out to see a train," Dad said. He and his brother were Eagle scouts in a top troop in DC. As the bugler he even got to play at FDR's inauguration, he said.
By college Dad was intending to be a doctor, enrolled in pre-med at George Washington University. He told us about winning a scholarship to med school, and then having the donors exercise their prerogative to give it to someone else that year! He wasn't' able to go to med school and the following year felt called to the ministry. His family moved to Los Angeles to find clean desert air for James, who had TB.
Dad eventually graduated from UCLA and then San Anselmo Theological Seminar, majoring in rural ministry. He married my mother, Dorothy, the day he graduated. I was born as he took his first parish in Two Rock, California, just outside Petaluma.
Four year's later, now with a second son James, he received a pastorate in Bishop, California, on the eastern side of the high Sierra Nevada mountains. The next ten years were a very special time, for both our family and the church. Both flourished. John and Gordon were born. Our manse's large yard behind the church was transformed from an alkaline parking lot beneath 25 huge sycamores to a landscaped garden with we four boys as the groundskeepers. Dad headed up building a new sanctuary, sang in the choir, preached, counseled, and learned about the high desert.
Maybe it was Sunday afternoons with his parents, or the influence of Ralph Waldo Emerson, David Thoreau, and Walt Whitman—all at the top of my father's list of inspiring people—but when we drove to the high mountains after church I had a sense that these too were our church. He was an avid photographer. I took the following picture of his beloved Sierras in his memory. He could see this view from his upstairs bedroom in Bishop.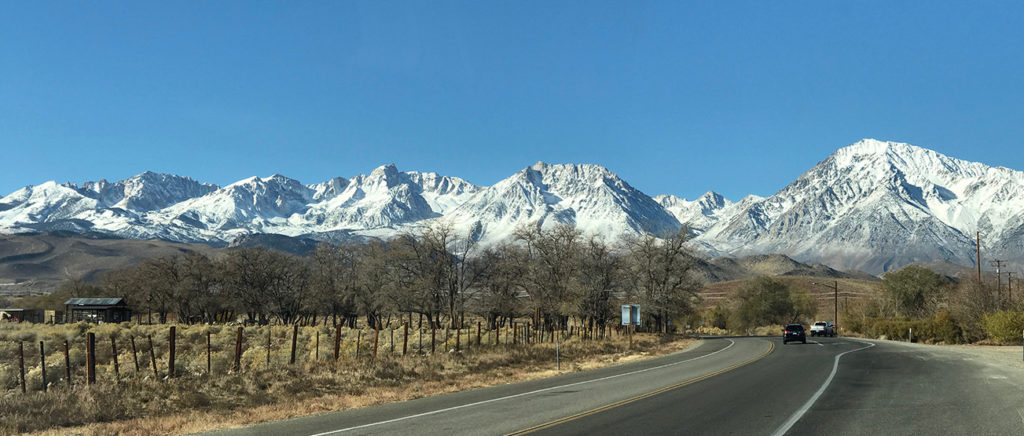 Peaks and Valleys
After these ten formative years in Bishop Dad went on to lead a church in Klamath Falls, Oregon for another ten years, then a young church in Woodland, California, and then after a break of several years, the Trinity Congregational Church in Weaverville, California. Though not in the Sierra he was never far from mountains. And his life too had its peaks and valleys. He and my Mom separated in 1972. He married a second time and we brothers got a sister, Elizabeth. That marriage also eventually ended and at age 73 he married Joanne, with whom he has been together since.
When Joanne called us before Christmas and urged us to come over and spend a weekend, she was very concerned that he had seemed to lose his interest in doing anything.
My father was unusual in the amount of energy and initiative he had over his lifetime. He has never been "slow." He's one of the most forward-looking, service oriented, energized and optimistic people I've ever known. He taught us about gardening and wildflowers. He taught us about visiting the sick in hospitals and serving our communities. And he taught us how to build. The house he built from the ground floor in Redding was a paradise among the rolling oak hills. While in Redding he was also a driving force behind the Redding Arboretum. He also served for years in the California Senior State Legislature and was a syndicated columnist on senior subjects for years. "I've never known him to be anything but charged up about life," Joanne said when we talked. "I never, ever imagined him not being that way, but he's stopped! He sits in his chair and can't even walk far enough to take shopping."
I can see now that Dad was preparing to go. "He tried to write," Joanne told us with tears in her eyes when we met at the hospital New Year's Eve, "but he couldn't. He even asked me to help him open up his word file, and there he had typed out 'SUNDAY AFTERNOONS" but he couldn't go further." My last picture of him was sitting there beginning that very line I believe.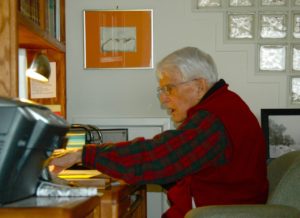 Dad will live on in our memories, and we writers will tell his stories. He left a lot of sermons to work with. It began with the last words he heard two hours before he passed written by his grand daughter Sage, my brother James and his wife Carole's daughter. "Can you please read this to Grandpa Laing?" she asked, and sent me the letter by e-mail. It pretty much says what we all feel, (and she agreed I could share it here).
Laing:
"I have looked back fondly on the times that you have read books to my friends and I. I have learned to love and appreciate each and every plant, especially roses, because you taught me how to see each one as an individual. I have learned more about God than I think I would have because I have the privilege of having you for a grandfather. There is a picture of the two of us sitting on a bench swing looking out over your splendid garden in Redding. This I will always keep close to my heart. I will enjoy telling my children about what a great grandfather I have. I want you to know that your life story will never fade because so many of us are here to tell your story. I will forever tell your insights to my friends and family.

If you feel you don't have the strength to carry on then I can accept your passing, though if you believe this is not your time to go and you are just letting go because you feel you've accomplished what you set out to do, there is always more to share and more to fight for.

My last words to you would be: No matter how good or bad or right or wrong you believe you are I know that you are a person who is worthy of God's praise, because everyone makes mistakes and this is our premise to learn what is moral or not. I will love you forever and for always and will hold much pleasure in sharing your stories with my children and grandchildren."

Much love always, Sage and Ross.
Blessings on your journey, Dad. You are now light, and every glint of it will remind me of you.
---
The Record Searchlight posted a story above the fold on the weekend about Dad, reflecting on his work as a senior activist. See link to Former Redding Senior Activist Dies.