Jun 30, 2010
Learning from Leaders of National Parks
For eleven days early this May I accompanied twenty nine national park superintendents, deputy regional superintendents, and head rangers on a brand new immersive leadership training called the National Parks Institute. Park execs attended from all over the United States and eleven others countries—including Chile, Paraguay, Lebanon, the Bahamas, the Dutch Antilles, Kenya, Australia, China, and New Zealand.
I was the "facilitator." I put this in quotes because it was a unique role – part master of ceremony, part process designer, part graphic facilitator, part participant observer, and part California Native speaker. It was a transformational experience for me and for the others. I want to share some of its impact here.
Here we all are at the end of the tunnel leading into Yosemite Valley.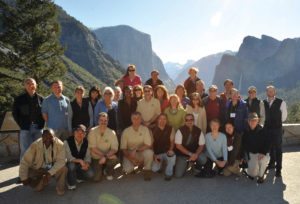 The program was tagged "Managing Strategic Change" and was designed to provide a Class A developmental experience using California as a base case. It was also a test of a collaboration between the National Park Service (represented by Yosemite and the Golden Gate National Recreation Area), UC Merced, and the Great Valley Center that hopefully will result in an ongoing program. It is the fulfillment of a vision by NPS leader, Steve Shakelton, recent Head Ranger at Yosemite and now in the Visitor & Recreation arm of NPS in Washington DC. He and his colleagues at the new campus at UC Merced saw an unparalleled educational opportunity in teaming up in the interests of strengthening park management worldwide in these challenging time. The Yosemite Fund, Toyota, and the Center for Park Management made it possible by funding this initial program.
Great Valley Watershed
As an integrating idea, the design team chose to frame the experience with the Great Valley Watershed, an extraordinary water eco-system that flows from the Sierra Nevada mountains through no less than sixteen rivers into the San Francisco Bay and two miles out to sea to the Farralones through the Golden Gate. Our journey would begin there, and trace back through the Delta, up the Merced to Yosemite, and exploring the Toulome River as it pours out of the Hetch Hetchy Reservoir, artifact of the 1906 Earthquake and fires that left San Francisco desperate for water and politically able to pull off the damming of one of the last big rivers in the Sierra. It's still controversial all these years later.
I am a native Californian – born north of San Francisco in Petaluma, raised on the East side of the Sierras in the small town of Bishop, schooled in Los Angeles, then, but for a 3 year interlude in Chicago, have been living in San Francisco since 1969. My brothers live on the coast near Forth Bragg and up in the foothills in Placerville. My father, until he passed away, lived north in Weaverville in the Trinity Alps. California and its land is not an abstraction for me but a lived experience. It is that relationship which gave this program such special meaning to me.
We began at Cavallo Point Lodge in the Golden Gate National Recreation Area. We then traveled through the Delta and down Highway 5 and across to U. C. Merced, a new campus in sight of the foothills of the Sierra. Our final leg was up the mountains to the South end of Yosemite National Park, where sessions at Hetch Hetchy, the Yosemite Valley, and then Tenaya Lodge concluded the experience. I made a Storymap of the entire process in small form folded and also on a large mural. I'm including it here for those of you interested in the total design (and how you can visualize an agenda).

Insights
I don't want to attempt to write a narrative about the entire experience, for it would be book length, but about some of the things that have been "working me" since, and represent the seeds of some key insights about this kind of leadership development.
• Leaders learn from leaders. Everyone in the experience thought that having the 11 park folks from overseas was an exceptional highlight, and I would agree. Their stories and experiences were often riveting, like the problem of controlling wild ungulates in Bhutan, or dealing with migrating animals exposed to poachers in the park in Kenya, or getting the Dutch to take the sustainability in the Antilles seriously. We'll bake in a LOT more dialogue time next session I'm guessing.
    • Partnering is possible with practice. In these budget stretched times, the example of the Golden Gate National Recreation Area (Or Golden Gate National Parks as they would preferred to be calledwas inspiring to everyone—in large part because of the way they have worked with partner organizations in the evolution of the parks. Our one-day overview talking with folks at the Marine Mammal Center, Headlands Institute, and Crissy Field Center left everyone impressed with what is possible. I was a founding director of one of the park partners, the Headlands Center for the Arts, and know how time and energy partnerships take—but the reward is a robust organizational ecosystem, much stronger I think that any mono-culture could ever be.
    • Thinking about systems is a challenge. The idea of looking at the whole California watershed was a fascinating idea—but not so clear to the participants in retrospect. We probably needed a trip to the SF Bay Model, and some talks with hydrologists. The UC Merced folks who shared with us the challenges of measuring snowfall in wilderness areas and Dangerman's introduction to ESRI's geodata mapping technologies for looking at park areas began to get the group up to system level of thinking. But we needed to get the groups working themselves with some maps and models if we expected group-level systems thinking.
    • Even leaders need time to reflect. My experience with leadership programs is that staffs feel compelled to pack them full with extra special presentations and experts. This is a flawed practice, since human brains, especially the brains of leaders, are full to the brim. For anything really new to get in the material has to be worked. We finally had two days at the very end that were completed facilitated, and the group loved the chance to start making sense of things. This practice will be threaded throughout next time I'm sure. In a time when leaders are "always on" with Blackberries, e-mail, constant meetings and the like, this problem of getting focused thinking time is serious. Quality simply does not come through with constant multi-tasking.
    • Parks are the canaries in the ecological gold mine. So many of the stories and experiences we shared were about the ways in which different parks are already showing the stresses of global warming, the economic meltdown, and shifting geo-politics. I came away believing that these precious ecosystem are like the Alexandria Library of our times, and are under threat. Because they are dynamic, living places, they reflect what is happening, and they have staffs that pay attention, unlike many other regions. I was fascinated with the living case study we did on fire management practices, and the current appreciation that many forest ecosystem have fire as a key part of the total process, and need it to thrive. By the same token, global warming is increasing the catastrophic nature of fires in systems that have not been allowed to burn. I'm not sure we are yet at a place where public policy can deal well with this kind of dynamic understanding of systems.
    • The engineering arrogance of the early 1900s may be challenged in our times. The earthquake and fire in San Francisco in 1906 galvanized public opinion and provided the context that allowed the city to develop Hetch Hetchy as a water source. It's now providing water for San Francisco and some 25 other community and farms. But I was surprised to learn that only 4% of that water is actually consumed for drinking water, and also startled to see that it all passed through some big pipes down at the bottom of the bay that cross tho huge earthquake faults. Almost certainly this system would be compromised in a big shake it seems. Do current leaders want to or have any resources with which to address this kind of thing? It doesn't appear so.
    • We have much to learn from indigenous peoples. We got to meet Ahwanee elders up in Yosemite, and talk to others at UC Merced. A Coastal Miwok basket maker at Yosemite is a living legend and gave us a glimpse into her journey of marrying an Ahwanee and learning their crafts. Yosemite was a precious place to these people, and they were active stewards in their time, burning off the grasses to create a park-like atmosphere among the tall trees and meeting with the Eastern Piutes each year up in the mountains to trade for obsidian and conduct ceremony. California was so richly endowed in those long ago days that the natives didn't have to create big structures and large organizations to live. In the 250 years Europeans have been dominate on the west coast, we've managed to degrade this environment rather thoroughly. Can we find a way through without the earth wisdom of these early people? I personally don't think so.
    • Stewardship cultures don't feel like marketplace cultures. Our experience began with Charles O'Reilly from the Stanford Business School teaching the group about adaptive management, using many business cases to make his points. The group struggled with the comparisons, and were stimulated by them. But I came away even more convinced that the type of values and orientation it takes to be a good park manager are not those of a businessman. The time frames are geologic, not quarterly. The phenomena being sustained is alive and complex, and not at all mechanical. The inspiring park leaders immerse themselves in their areas and learn to listen to the land and its many inhabitants, including whole communities in many of the parks of the world.
I kept thinking about Jane Jacobs, whose little known book Systems of Survival argues that stewardship cultures, derivative of hunter gather societies, are very different at core than the marketing cultures that grow from trading, and we open ourselves to enormous confusions trying to get the one to be like the other. I don't have a lot of answers to this yet, but the question needs to be asked.