Jun 09, 2022
Now that we all are plunged into levels of uncertainty that seem unprecedented, the bedrock assumptions of western culture and leadership are being challenged. I want to share some reflections on visionary leadership through a personal lens.


I am old enough to remember the cold war and hiding under a desk in case of a nuclear war (does this make any sense?) The fear in my generation was real, and our disillusionment during the Vietnam war was pervasive. I remember being amazed at the number of CEOs who claimed they had no idea their companies were polluting as Rachel Carson's book Silent Spring provoked a period of considerable media attention on leadership and their responsibilities. But today feels more serious.
In addition to rising uncertainty, we also face some very disturbing certainties. The world is steadily warming. Co2 is at its highest level in the last 400,000 years. We are not making progress in stopping this and the impacts are locked in for my and my children's generation. And this isn't the only disturbing certainty. As troublesome and less understood is the role that social media and AI is playing in fragmenting our awareness on the one hand, opening the world to everyone on the other, and fundamentally challenging assumptions about democratic process and collaboration. It feels like the attention economy is just another extractive mining operation not unlike the carbon economy, with profit considered legitimate so long as one ignores the impacts on children, local cultures (and now the globe itself)? This technology is on a runaway course just like global warming.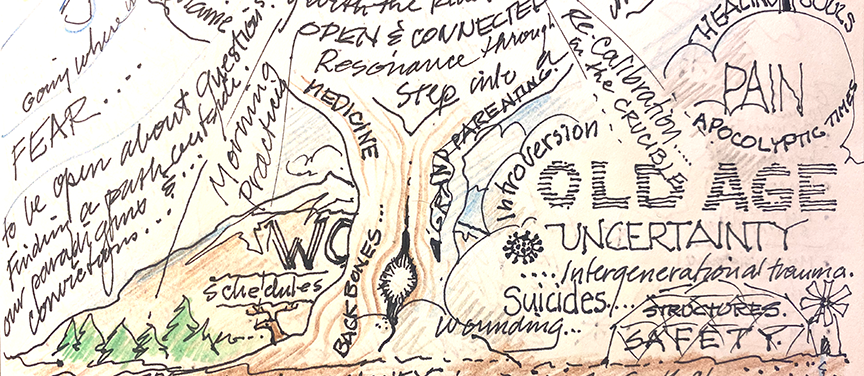 What are we to do? And what have I, as a leader of several organizations, been doing all this time?
I've consulted to high tech, jetted around the world leading visual planning sessions, believed that collaboration and design thinking can make a difference, been a part of creating a new field of visual facilitation. But it doesn't feel like enough. I realize I have not made deep enough friends with real uncertainty. Managing symbols on the wall is not enough. My ideas about visionary leadership are shifting well beyond appealing vision maps, as useful as they are.
Last year I attended a summer solstice gathering with colleagues in the change business. We were gathering at Sequoia Retreat Center near Ben Lomond, CA, amidst redwood forests that had been scorched by wildfire. It nearly destroying the retreat center but for the vigilance of many locals who risked lives to shield it. Many trees were blackened. In spite of that, much new growth was already coming through the ashes. Out of one of those groves I found a burnt shoot and married it with a hawk feather that had been on the path to breakfast. The feather is symbolic of the East and new visions. The burnt root of the fires of change we are  experiencing. 
Here is an image of the wand, sitting on my studio singing bowl.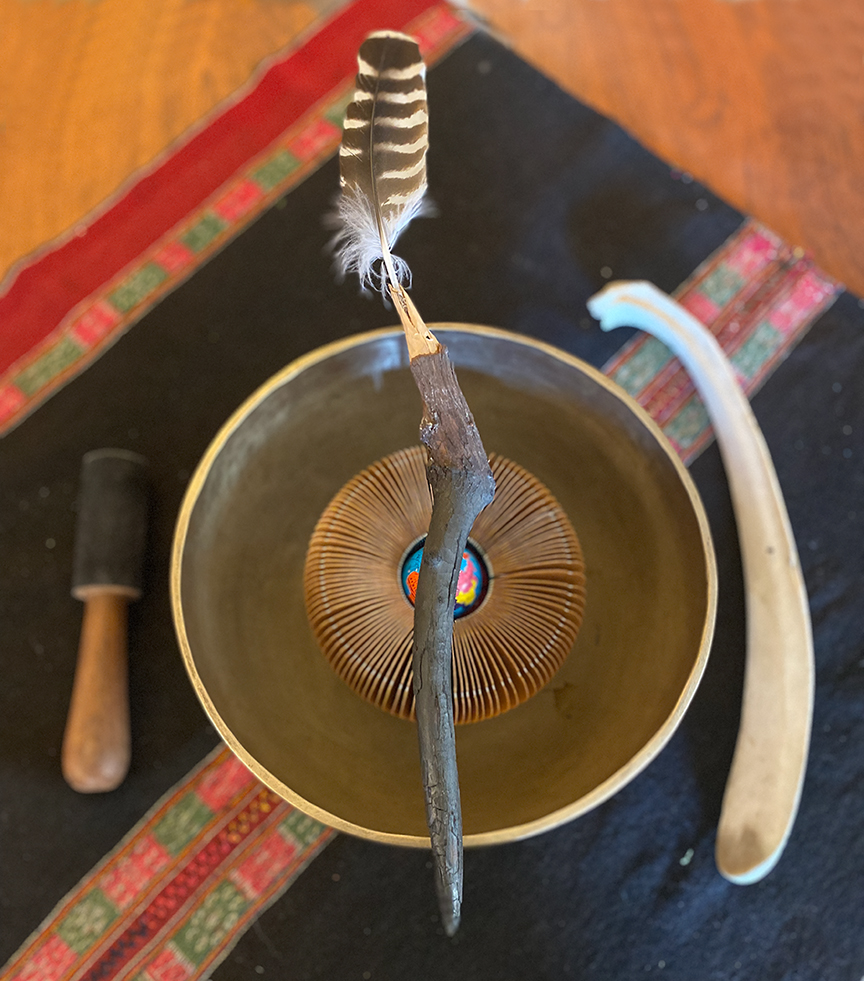 The commitment I made this last year was to focus on supporting the new growth I see emerging in these times, to support new people learning to do change work, and to reach out and support people who have the courage to lead into our new challenges. I also committed to "see" this new growth—not in the future—but right now. What does it mean to be a "seer" of the new? What does it mean to experience potential when there are no clear rational ways to realize it? What does it mean to let the light into the present, and to stand in the ashes and look at the emergent new?
I don't have a list of ready answers, even while taking a stab at some in a recent Grove article on Visionary leadership that appeared in our journal. What I have is a new hope, and a belief that there are others who dare to have these kinds of visions—visions filled with light and potential but not the clarity of plans—and held by people who know that inviting others into the co-inventing required to move forward is possible, and exciting, and the true hope. I want to find and support these people.
This is my vision for our Global Learning & Exchange Network (the GLEN). This is my vision for a new Grove that focuses on supporting visionary leadership. This is my vision for letting our do-it-yourself tools for visioning and change be available to the world through Grove Tools so people can connect with their own seeing. This eco-system of a consulting firm, a non-profit educational wing, and a tools business is something I'm experiencing growing under my feet, with the involvement of many others, and can now be a platform for this new commitment.
 My vision is to serve the light that comes into the darkness when we still ourselves and open to guidance and the new growth that is always emerging. I'm moving toward another Summer Solstice this June, a July vision quest on Mt. Shasta, and a silent retreat in Germany in September. My intention is to look more deeply into this calling and ask what it intends for me to do now.
Stay tuned. I plan to share about what comes through on a regular basis.