Oct 03, 2011
Visual Teams Has Arrived—What's New About It?
My second Wiley book, Visual Teams: Graphic Tools for Commitment, Innovation, & High Performance, arrived in a box at the precise moment we finished a review of our Team Performance System at The Grove's Quarterly meeting! Needless to say I and our team was pretty exited. Everyone wanted to know what was new in this book that they could talk about.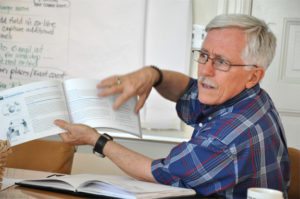 Here is my answer.
1. New Success Stories: It tells the stories of many high performance teams that used visualization extensively to achieve results. These stories from HP, Otis Spunkmeyer, RE-AMP, Agilent Technologies, the DLR Group, and Gary Hamel's MLab demonstrate how visual meeting methods can be used over the whole arc of team's life.
2. Best Practices: There are comprehensive lists of best practices keyed to the Drexler/Sibbet Team Performance Model (TPM). The book is loaded with side stories explaining principles and activities for applying visualization to teams.
3. GUI for Teams: The book explains how the TPM uses graphics to explain team dynamics in ways that are intuitive and memorable—providing a robust language for cross boundary teaming. The Drexler/Sibbet Team Performance Model provides the guiding framework for the book, and the explanations of the keys to success that mark high performance teams will be an invaluable reference for anyone using this model.
4. Decision Strategy Framework: Visual Teams pulls together the Grove's materials on decision strategies and tactics to provide a succinct chapter on stage four, commitment practices.
5. New Tools: Throughout Visual Teams  outlines ways to work virtually with new technology tools, using the Four Square Map of Groupware to show the choices. A final section focuses in on the technologies that are having the biggest impact—tablets, interactive whiteboards, smart phones, social networking, and Telepresence.
6. Theory of Process: Using a computer analogy, Visual Teams argues for the power of having a real operating system for thinking about group process in the form of Arthur M. Young's Theory of Process. This is the clearest short summary yet of those ideas, with lots of examples of the derivative "application programs."
7. Links and Resources: Two Coro Fellows helped develop a comprehensive, annotated bibliography and list of links to some of the best material available on teams, in addition to resources for visualization. This book does not attempt to duplicate the extensive lists of resources in Visual Meetings, but extends that material.
Following is the table of contents.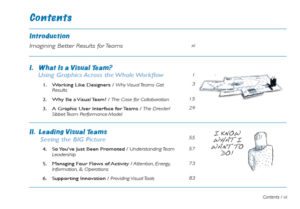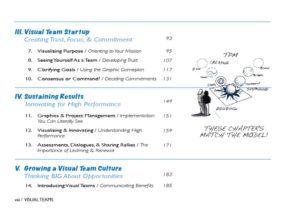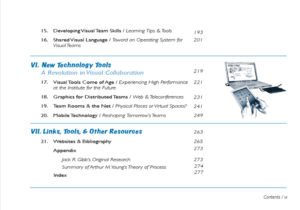 Thus arrives the second in what will probably be a trilogy of books on visualization. My editor Richard Narramore at Wiley has asked for another proposal for a book on Visual Leadership: The Art of Organizational Transformation. Stay tuned!!