Sep 13, 2013
Homage To My Life Partner Susan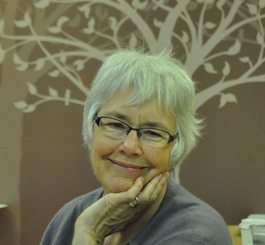 My partner of 48 years, Susan Herron Sibbet, passed away this August 31, 2013, from metastasized endometrial cancer. We've been in full "cancer journey" mode for the last two years, which is why I haven't been posting much here. I'd like to share her obituary with you here, in appreciation of having the extraordinary privilege of living with this brilliant sensibility for so long. Her poetry and modeling how to teach children to write has inspired me deeply in my own facilitation work.
---
Susan Herron Sibbet passed away August 31, 2013. She is survived by her husband of 48 years, David Sibbet and her children—Thomas Sibbet, Valentine Brown, Jerda Solonche, Phillip Sibbet, 7 grandchildren and one great grandson. After a 4-year struggle with endometrial cancer, she passed in peace, out of pain, and literally held in a field of love.
Susan was a beloved poet/teacher in the schools with California Poets in the Schools, an organization she worked in and supported as Acting Director and President of the Board for more than 25 years. She is a published poet and was a founding member of Sixteen Rivers Press, a respected poetry publishing cooperative.
Susan was born in San Diego on April 26, 1942, to Admiral Edwin Herron and his wife Marie as the middle of what would eventually be five daughters. She is the granddaughter of Admiral William H. Standley, Chief of Naval Operations under FDR. She spent a few years in San Francisco and several in Hawaii, before the family settled in Alexandria, Virginia.
Susan graduated from high school in 1961 with honors. She attended Brown University for two years, graduating from the University of Virginia in 1965 with a BA in Education and a "Z" Society Award. She also won a Woodrow Wilson Scholarship, attended Northwestern, and graduated with a MA in English in 1966 with an emphasis on American literature and 19th century fiction. She completed coursework for a Ph.D. and a section of a Ph.D. thesis manuscript on "Henry James and Henry Adams as American Decadents."
In 1984 Susan received a second MA in Creative Writing at SF State. In 1991 she received a fellowship at the Bunting Institute at Radcliffe/Harvard and began her historical novel The Constant Listener,  re-imagining the world of Theodora Bosanquet, amanuensis to Henry James. From 1993-96 she was affiliate artist at the Headlands Center for the Arts working on this project.
Susan's published work includes White Mountain Press titles, Under Suspicion of Sisters '86, Burnt Toast and Other Recipes '87, and Suspensions '90. In 2004 Sixteen Rivers Press published No Easy Light.  She has numerous poems in the anthologies of California Poets in the Schools and has given many readings over the years.
After moving to SF in 1969 with David (married in '67), Susan's creative life included being active in food cooperatives, school reform, several short business jobs, and raising the children. She was volunteer coordinator at McCoppin School from 1975-80. She was an early member of Argonne Community Garden in 1978. She believed in Community Supported Agriculture and the biodynamic food her family received from Live Power Farms for years.
Susan became a poet in the schools in 1984 and worked extensively with children K-8 in San Francisco, Oakland and San Jose. She was gifted at her work with the younger children creating some four-dozen books of their poems. She is especially beloved by the teachers at Jefferson School and Lafayette Elementary Schools.
Many have asked what they can do to honor Susan. Her passion and love was California Poets in Schools. Donations in her name would be the best expression of your respect. Send any honorary donations to California Poets in the Schools, 1333 Balboa Street, Suite #3, San Francisco, CA 94118.