Nov 20, 2017
Dr. Bob Denton: My Inspiration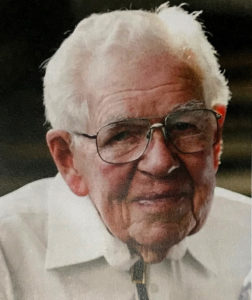 I like to think of my life as a tapestry, with all the threads from people who have influenced me woven together with my own abilities and interests. One of the strongest threads is from my godfather, Dr. Robert Denton, or Dr. Bob as people in Bishop, California called him. He died October 28 at age 95. I gave this tribute at his memorial Saturday, November 18, 2017.
---
"I met Bob Denton at age four when his wife Betty along with other leaders of the First Presbyterian Church in Bishop asked my father, Laing Sibbet, to be their pastor. Dad was fresh from seminary in San Anselmo and a pastor in the Two Rock Presbyterian Church near Petaluma. Bob and Betty took it upon themselves to introduce Dad and our whole family to the East Side—fishing, hunting, its people, and its culture of independence and resilience in the high desert.
Our families were very close, and I learned from Bob what it meant to be an adult man in service to a community. His influence has been a warp thread in my weaving—the long threads on the loom that hold the others as the years create their patterns.
Dr. Bob was an M.D. and a Ph.D. from the University of Chicago and University of Illinois. His father was a country doctor down in Ramsburg in the Mojave. When Bob came back from Chicago, now with Betty, they settled in Bishop to continue an East Side doctoring tradition.
One of the fibers in Bob's thread for me was curiosity. I remember finding him out in his workshop one day behind his house on Keough Street in Bishop, poking a thin stick into a cage on his workbench. A bumblebee was buzzing inside. "It's not supposed to fly," he said to me. "Aeronautic theory can't explain it, yet here it is, flying!" He loved to poke into the mysteries of life. When I visited him this September, at age 95, Science magazine was still by his reading chair.
A second thread was discipline. I'd heard many stories of Bob's doctoring. He was a general practitioner and surgeon focused on treated the whole patients—however they needed healing. I was able to experience this directly once when I almost cut by left forefinger off on a hike over the Sierra with my youngest son Phil. We'd come from Florence Lake in the west and were walking into Bishop, on a kind of rite of passage for Phil, who was 13.
Interestingly, this hike was inspired by Bob and my Dad taking me on a similar rite of passage at age 13—a hunting trip above McGree Creek. I learned two things then. One, it is really freezing before sunrise at that altitude. Two, deer know it's hunting season and head up high. Even to see one we had to sit completely still and quiet all day. Although we didn't see any deer, I learned a bit about meditating, and I received a symbolic hunting knife.
My trip with Phil became a second rite of passage for me on day three, high in the back country by Golden Trout Lake in the Humphrey Basin area, when a razor-sharp knife slipped off the staff I was carving one morning. It went clear to the bone. "I don't have a curved needle," I remember thinking. Then reality hit and I realized we had to hike out—fast. At seven hours from trailhead it would be touch and go under the best circumstances to get help while the tissue could still be mended.
We met a high mountain jogger running up, believe it or not, from the Bishop side for a morning workout. He agreed to take a message back down to ask someone to call Dr. Denton. Not knowing the result, we continued and came out at Lake Sabrina in the late afternoon. To our amazement we saw two cars speeding up from the valley, Betty in the lead and Bob not far behind. Bob took me right to his office, and put in 27 stitches over the next several hours. He put in a dozen tying together the several small tendons and then sewed the wound shut, all without any assistance. The Novocain wore off three times. He never hurried, or was impatient, or made me wrong. I have my finger today as a permanent reminder of Bob's gift of showing me his discipline, not just with sewing, but with dealing with his patients as human beings—in this case, me.
The most important thread I carry from Bob is love. He loved people. A deeply spiritual man, he believed that he was guided in his work, and that all beings deserved his complete respect and attention. When I visited last September he was out in the front of his house on a bench, now feeble and a bit forgetful, but the smile on his face when he saw me was enough. "You are marvelous," he would always say to me with that smile. He gave me the greatest gift an adult male can give a young man, which was to see me and love me. It's that gift that I work to carry forward, following Dr. Bob. That gift is alive in all of us who knew him."
---
As a postscript, I have to say that the memorial was one of the most inspiring I have ever attended. The Presbyterian Church on Main Street was completely full. Speakers included his brother Eddie, former District Attorney for Mono County; his wife Betty (now 96, they were married 67 years), their children Susan, Bill, and Margie; and their grandchildren. Hundreds of community people attended.
In addition to being a legendary doctor, Bob was also a master storyteller, fueled by hunting and fishing adventures as well as medical missions all around the world helping people in underdeveloped countries. The stories kept coming all through the service and afterwards at a lunch reception.
My time in Bishop between the ages of 4-14 was formative. Dr. Bob, his art teacher close friend Aim Morhardt, and my father set my standard for manhood. I am forever grateful to have had such role models in my life. They all knew how to serve. It's our turn now.