Oct 27, 2020
This is a piece about COVID, the Elections and Poetry. Let's start with the poem.
In 2019, well before the pandemic set in, I wrote a poem dictated by a spider at our Summer Solstice Gathering, a gathering of peer consultants I have attended for more than 20 years now. It was the year of the Collective Consciousness of All Beings in the Mayan 20 Count, a framework we have been using to guide our imaginal journeys on these gatherings. We called a council of the animal beings to talk to us about the state of things. This imaginal work is a wonderful way to get new perspectives and break out of "normal." Letting creatures "talk" to me is a wonderful journey.
This year, in the dark of the pandemic, Spider Medicine was published by California Poets in the Schools, an organization of which I am President. As I read it again, I had the feeling that it was speaking to me again about these times, with added complexity.
Here is the poem, published as what poets call a "broadside," designed by fellow Board member Fernando Salinas.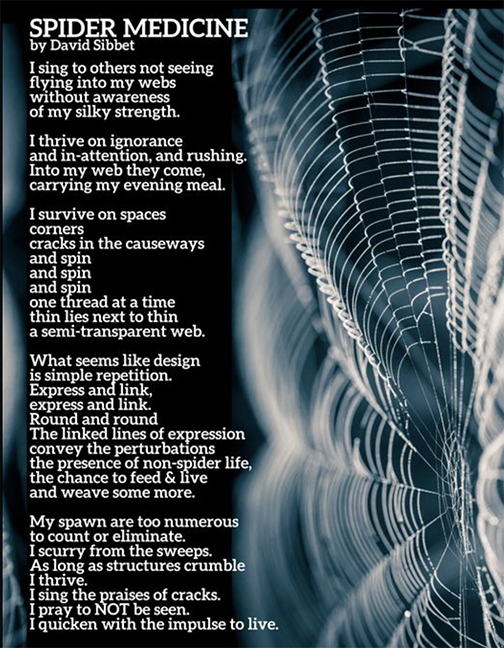 Read it twice and let whatever arises arise.
Metaphoric Confusion
My post writing responses to Spider Medicine feels a bit like my responses to the news right now. Read one way, the spider is a dark force, waiting to trap unsuspecting insects. Could this be the dark web, the "attention economy" and its pernicious algorithms that feel more and more extremism through our social media feeds. Could this be the behind-the-scenes operators busy spinning new alliances and deals while we are all distracted by the reality TV show that seems to be our national, political narrative right now?
But the spider is also a beautiful creature and revered by many traditional people. The Cherokee believe spider brought language in the patterns of its web. "The spider woman is the wisdom keeper, the grandmother figure, the female figure," writes Hopi artist Michael Kabotie. Some Southwest tribe believes spider brought weaving to the people.
So, holding this metaphor lightly, knowing that all metaphors both illuminate and obscure, I looked through the lens of a darker spider medicine.
Reading About the All-Seeing Eye
A long article in the New York Times Magazine on Palantir, the data analysis software company that went public in 2020, connected with the spider poem. The Cover image even looked like a spider web.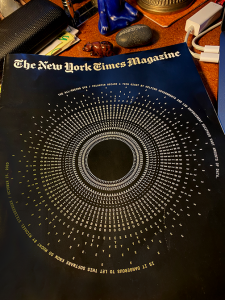 If you don't know much about Palantir it's not surprising. Like spiders, it stays hidden, even moving from Silicon Valley to Denver to get out of the spotlight. But recently Palantir has been grabbing media attention in the news-sphere with many articles, posts and shows spiraling around the question— "is our democracy on the verge of becoming an authoritarian surveillance society?" When the Health and Human Services agency brought them in to help with COVID attention quickened. The wondering is on a spectrum of urgency that one one end is concern about voter manipulation and inaccurate balloting to on the other a daily flailing of American's asleepness and precariousness by writers like economist and tireless Medium author, Umair Haque, who has lived through dictatorships and knows the pattern.
So, in this context, the article on Palantir seemed to be motivated by its author, Michael Steinberger, wondering if it is healthy to have a company like this knowing so much about us, and being able to integrate vast silos of information into coherent patterns. Their special interfaces can confidently present analysis "in the form of tables, graphics, timelines, heat maps, artificial-intelligence models, histograms, spider diagrams, and geospatial analysis." I quickly noticed that the value was in visual translation—interpreting what the pile of data means. How can we connect addresses, phone numbers, zip codes, body weights, color, email address, height, occupation, purchases, party affiliation, relatives, club memberships, education, driving records, crime records to VISUALLY identify terrorists, criminals, COVID contacts, susceptible voters, to reflect what some of their clients use Palantir software for. "We want to save the West from terrorism" says founder Peter Thiel, arch Libertarian billionaire and Trump supporter.
But it is more complex than that, just like my reactions to my poem. Palantir's executive officer is Alex Karp, a Stanford law school buddy of Thiel's who studied with Habermas at the Frankfurt School in hopes of becoming a social psychologist. The Frankfurt's school's neo-Marist critiques of capitalism and instrumentalism couldn't be more diametric one might think. But Karp's intellectual complexity turns out to be great for managing the 2500 very intelligent and probably quirky software engineers. Under questioning they are on the record being very concerned about privacy. They don't let Russia or China use their software. They are, like the benevolent spiders, bringing the new language of data analysis to the west to save us.
Seeing the Unseen
Moving beyond Palantir, the most resonant image in the poem for me was imagining spiders surviving on what the insects don't see. And this unseeing part, disconnected from the spider metaphor, is what concerns me the most these days. And it seems to move into both dark and light directions.
We know that opportunists flourish when there is social chaos. We know that many are making money by attracting eyeballs to ever more catastrophic theories and lies. We know that pharma firms are at full throttle to be ones who profit from the suffering. It is their business model. We know Amazon and other on-line providers are expanding exponentially, and so is the plastic they use to ship their goods. Oil companies are already spinning new strategies as oil demand declines to compensate with plastics. And I wonder how many are using the pandemic to accelerated worker replacement with AI?
At the same time I believe there are many new networks growing that focus on catching people into communities of interdependence and resilience, with the spiders transforming into golden connectors in healthy, thriving communities. In fact, I'm one of those spinners working on our Global Learning & Exchange Network, working to lure people into inquiry and hope.
I realize now that I mostly care that we don't become numb and asleep as challenge after challenge pummels us. I don't believe the spiders of the world really care who flies into their webs, only that life comes. I just don't want to have us flying into the wrong webs.
We All Survive by Eating Living Things
In a call this morning I shared about writing this blog piece with some colleagues, and how I was struggling with the "both-and"ness of the spider image.  My friend Alan Briskin shared that he had been reading a book by Joseph Campbell recently, and that Campbell was looking at the deep patterns under the social fields that we all live in. (Alan is currently writing about social fields with colleague Mary Gelinas).  He said that what we forget is that humans survive by eating living things. It's in our nature. And we survive by reproducing and spawning more. It's in our nature to spin and grow. And it seems to be in our nature to "have" and to "own." These deep patterns are in tension with the need to be reciprocal. This reflection prompted, Gisela Wendling, also on this call, to remind us that some say culture is what arises to mitigate these deep urges.
I hope that is so, and I hope that this week, our country celebrates a culture that for a time believed in democracy, liberty and justice for all, and a government FOR the people. It is this social field that can bring us the good side of spider medicine. It is the web of our shared values that can transforms a spiderweb image into ones of roots systems and links that bind us into a culture of mutuality and concern.
But watch out if you are asleep. It's Halloween, and spider bites can be mean.