Nov 20, 2022
I've spent my adult career working with the way in which people symbolize their understandings of themselves and their organizations in words, images, metaphors, and mental models. My western mind was schooled in the idea that being clear and cogent is a supreme value. For years I assumed my primary job is to help people make sense out of complexity with my visual facilitation and information design.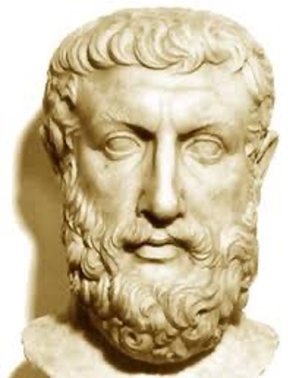 A Brief Look at Reality
Kingsley is a scholar of Greek language. His book is a brilliant reinterpretation of poems by Parmenides and Empedocles, two men who have been credited with some of the first articulations of the value of modern rationalism. However, Kingsley believes interpreters of these works got them wrong, amplifying elements that supported a rationalist argument and subordinating elements that presented other, more radical ideas.
According to Kingsley, Parmenides' insights were actually rooted in mysticism and practices of prophet healers in an iatromantis tradition. They practiced "incubation," entering dark caves and enclosed rooms for days, until their sense relented, and they could receive direct transmissions from the goddesses, in their case the Goddess of the Underworld Persephone and the Goddess of the Outer world, Aphrodite. The entire first part of Parmenides' seminal poem describes being taken to the underworld by daughters of the Sun, pulled in a chariot propelled by "longing," a Greek work that meant purpose or passion. Upon meeting the Goddess, Parmenides is given instructions or "laws" and told to bring them back as stated to his people. This kind of transmission is what the prophet/healers in Velia did, and the communities were organized around these transmitted laws. Nothing could be further from trusting in rational thinking. But subsequent scholarly interpretations projected on Parmenides the idea that he, of course, must have worked all this out in his own mind, and not very well at that by their standards of poetry.
Kingsley also argues that the scholars who interpreted Parmenides had no understanding of the practices of magic and mystic transmission as understood by the iatromantis people, in which coming at important issues sideways and full of trickery was central. Their primary Goddesses were apparently the same way, and very accustomed to sharing their deepest truths stated as contraries, and riddles, with things stated as truths most likely not being true.
This kind of pretzeled "logic" challenged my western mind, but Kingsley's writing hit a receptive channel for me, especially when he continues to explore how Empedocles insisted that what he called "Strife" not "Love" is the doorway to awakening. He appeals to "mad strife" as an essential quality to embrace for the awakened mind.  Oh my, I thought, now I am in trouble.
Aphrodite, the goddess of love, was seen as the binding, connecting force of our awake world. Is not Love of superior value, just like clarity? It is the power of love to seduce and attract and bind things together. Love blinds us and needs Strife to break the trance and bring us back to appreciation of what is going on behind our stories, dreams, and visions. We need the goddess of the underworld, Persephone as well. This "mad strife" is not the madness of a persons whose neurology and physiology are, but the divine madness of someone who realizes that the trance of our ordinary lives is a sham, and no longer "believes." It is the crack in our certainty and knowing that lets in the divine awareness.
Might you suspect that my reading this book conjunct with my Vision Quest might have some impact on my receptivity to Kingsley's line of inquiry? And might you suspect that I have been experiencing strife with the pandemic, Ukraine, and radical shifts in organizational practices around planning and meetings, the heart of The Grove's work. Could it be that my deeper knowing is encouraging me to reach out to this strife and embrace disruption and unclarity as doorways to insight?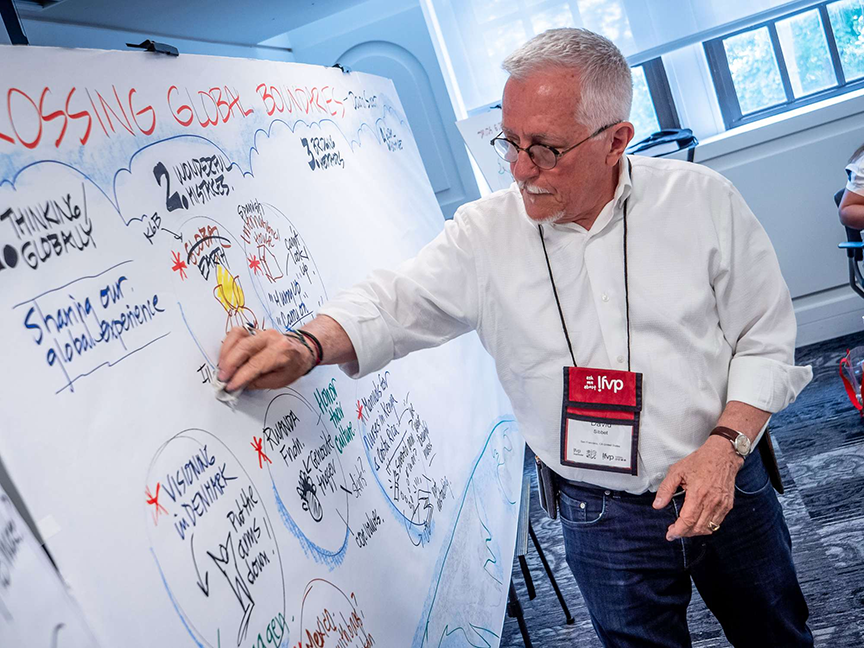 Is Visualization Both Integrative and Disruptive?
One of the first shoots of insight to spring up from reading Kingsley is a reflection on the extent to which my visual facilitation practice is reflecting both Love and Strife. The Love part is easiest. People love well done graphic capture, for the most part. It is seductive to look at the way that visualization can help make sense of things, reduce confusion, and help people see their relationship to the larger whole. I and many others are writing many books plying this river of perception. But is this all that is happening?
I know that visualizing people's spoken words in written text and image is affirming and appreciative, but at the same time experientially disruptive in ways that aren't always apparent. Not only are the characterizations reflections of the recorder's, not the speaker's filters of perception, but they are also VERY partial. At my fastest I can only get 1/8 of the words as most, and of course only a fraction of the imagined imagery.
But this practice is also disruptive in a more subtle way. Looking at anything from a whole systems perspective, which is what a roomful of visualization allows, is not the usual way people make sense of things. Most people perceive their organizations and work from the point of view of their specific jobs and interests, and within narratives that become polished into certainties by repetition. Rarely do people get to "see the whole." And of course, the room full of graphics isn't the whole, but merely a pointer at the greater complexity. If all stakeholders and external drivers in any situation are accounted one would be facing a real mystery about what causes what. But just the attempt to take a whole systems view is disturbing. It suggests that the arc of our internal narrative is limited and perhaps even wrong. People's nervous systems resist this sort of understanding.
When I was developing visual practice during my years with the Coro Center for Public Affairs, I facilitated a business program for managers to understand what was going on in the city. We would take one specific decision, like the decision of the Board of Permit Appeals in San Francisco to approve the Transamerica Pyramid, then outside the Zone for tall buildings and close to Telegraph Hills more cozy neighborhoods. We interviewed some 48 people involved, usually in their offices, and kept pursuing the same question—why was it approved? Trust me, we could not arrive at one story, or even why this very uneconomical design was chosen. We conducted this exercise around 3-4 other key decisions and had similar experiences. Clear narratives were consistently incomplete.
Then I began to think about the extent to which I would using visioning to lure people into a sense of connection and mutuality and move past the strife and disruptions. How many of my clients were using nice pictures to create an illusion of coherence and ignoring real problems with their people? How often was I listening only to Aphrodite?
My partner Gisela Wendling's recent study of her Liminal Pathways Change Model and liminality has drawn me into looking at the value of the confusing, in-between times when something truly new can enter, what she calls "the crucible." That inquiry is another post but helped amplify what Kingsley was saying.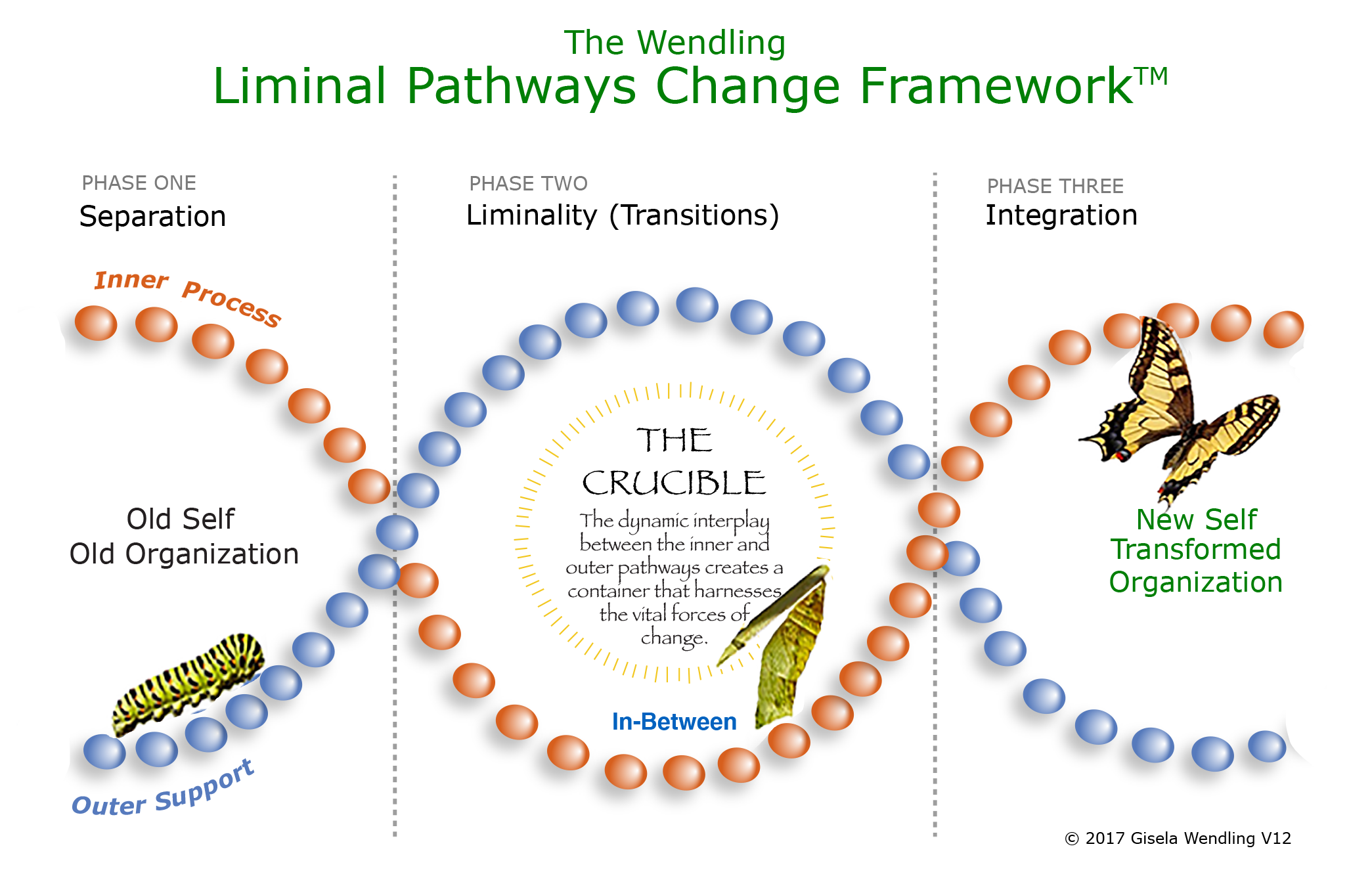 I'm doing more of this with colleagues. Recently two of my friends and GLEN colleagues, Alan Briskin, and Mary Gelinas, have been writing a book about Three Field Awareness. They are working to integrate research in the areas of personal, social, and noetic fields, and of course interleaving their own long practices. Mary is deeply engaged in somatic work, taking the language and deep patterns of our embodied knowing seriously. Alan has been studying collective wisdom for years. These matters defy easy representation. I have been working with them to see if there are some ways to visualize these concepts without falling into the trap of being inappropriately "clear."
Mary, Alan and I are all experienced collaborators and know what when we hit a rough spot in our thinking we don't dig into our individual "rightness," but simply bring up what arises spontaneously, waiting until the bells chime in our inner minds. The results are, in our experience quite remarkable. It is as though we are being guided. What appears are often simple images and associations, and often metaphors. In one session we wondered how we could possibly visualize everyone having personal fields generated by our bodies, minds, and individual senses and at the same time being immersed in social fields that have intensity and flow and shaping concepts about how to work and be? Somewhere in our improvisational talk the image of starlings emerged. We immediately went and searched on-line and before we knew it, we were looking at dozens of pictures of the incredible formations starlings create in the "murmerations." We got shivers. The idea will probably survive the editors.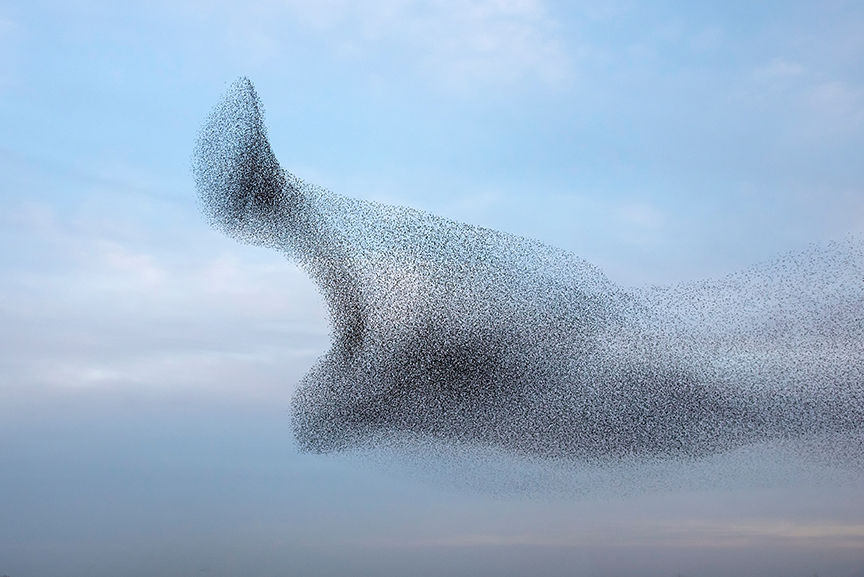 Can working with imagery in a deeper way happen more in groups? How do we practitioners guide people to beyond clarity to movement and emergence? I know there is something about hand created drawing that encourages this kind of accidental wisdom. And are visioning sessions really mumerations? Is there higher consciousness? Can we accept what comes through these portals?
Is the Universe Conscious?
A third seed is taking root. It arises from Kingsley's exploration of what the word "longing" meant to the Greeks. It seems to imply an inner orientation of what some might call the soul. He wrote that to the Greeks it also meant purpose.
Arthur M. Young, whose Theory of Process has been my operating system for years, once said he wished he had called it a Theory of Purpose but shied away from that because he wanted to bridge to western science, which was more open to understanding something more tangible. As a physicist he was fascinated that the quantum theorists, who began to see light as the most fundamental of all elements in the physical universe, called photons a "quantum of action"—something whose spin held potential that could be realized as it took on direction as a fundamental force—an electron or proton. He suspected that these scientists had quietly opened the door mystics had longed entered. Light, it seems, does not have boundary, weight, and length. Some students of bioluminescence suspect light might be the way cells communicate, quite beyond chemical interactions. Others appreciate that the principles of "non-locality" may mean at this level all things are much more interconnected that we have any appreciation for.
What if our rational language and crisp, visually "clear" graphics are actually barriers to deeper forms of communication?
One of my visual consulting colleagues, Vivian Wright, was a very successful internal guide at Hewlett Packard during the days when the HP Way was alive with founder energy. She said that her work was 10% design and 90% prayer. I asked her what she meant. She says she would set up group processes, and then sit aside and hold the whole group in her inner imagination, seeing them emerging and creating and aligning. Was she holding purpose at the center of her work and using her inner imagery to affect the field?
As a minister's son I was taught to pray for others, holding their image in my mind. I am reluctant to use that word now in secular settings but suspect that simply opening to and trusting the light and holding images without knowing why or how, may be a form of prayer. Is it possible that this is the gift of disruption, letting the light of purpose come through? Can we learn to see the light in others, and imagine that they too, whether they know it or now, are part of a larger field of consciousness.
I know the practice with blogging is to be short and sweet, and have three or four takeaways, but I'd rather show up in my present condition and share what is emerging, rough as these thoughts are. I let myself get "whacked" by Peter Kingsley. I think it is nice to have that happen at an age when I'm tempted to think I know things.