Jul 04, 2017
Spider Politics and Trojan Mice
Every so often an idea appears that won't let my imagination be. Like an electromagnet, it keeps pulling in material.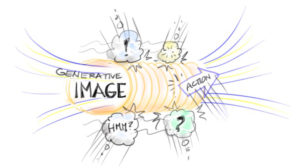 It happened this week as I was returning from Decatur, Georgia and the 22nd International Forum of Visual Practitioners. Gisela Wendling and I led a three-hour interactive keynote on "Visual Consulting: Designing & Leading Change" for some 75 visual practitioners from all over the world. Poland, Brazil, Germany, Korea, Canada, Thailand, China, Netherlands, France, Russia, Belgium, India, and Australia were all represented, along with people from all over the United States.
The idea that set us off is that there is something in common in the wave of new methods in OD—things like World Café, Open Space, Appreciative Inquiry, Theory U, the Art of Convening, Presencing, Active Facilitation, the Circle Way, and Visual Facilitation, to name only some identified by Gervase Bushe and Robert Marshak in their new book Dialogic OD: The Theory and Practice of Organizational Change. Their assertion is that all embrace three core processes that are key to their effectiveness:
Disrupting the traditional narratives about what is important and has meaning
Providing a space and process where one or more core narratives can change
Finding or creating a "generative image" whose compelling nature invites new thinking and action.
Of course I am hooked by the idea that "generative images" are important—but what did Bushe and Marshak mean by this? And are all images generative? Is this the reason The Grove's work has been so provocative all these years?
We set out to explore this idea with the IFVP community through the lens of Gisela's Liminal Pathways Model and our new 7 Challenges of Change Model. Because this IFVP community is so visual, with an increasing number of information designers and trained visualizers stretching into facilitation and consulting, we gambled they could step back from our big frameworks and look at them as tools reflecting these Dialogic OD principles. Here is the first one we shared.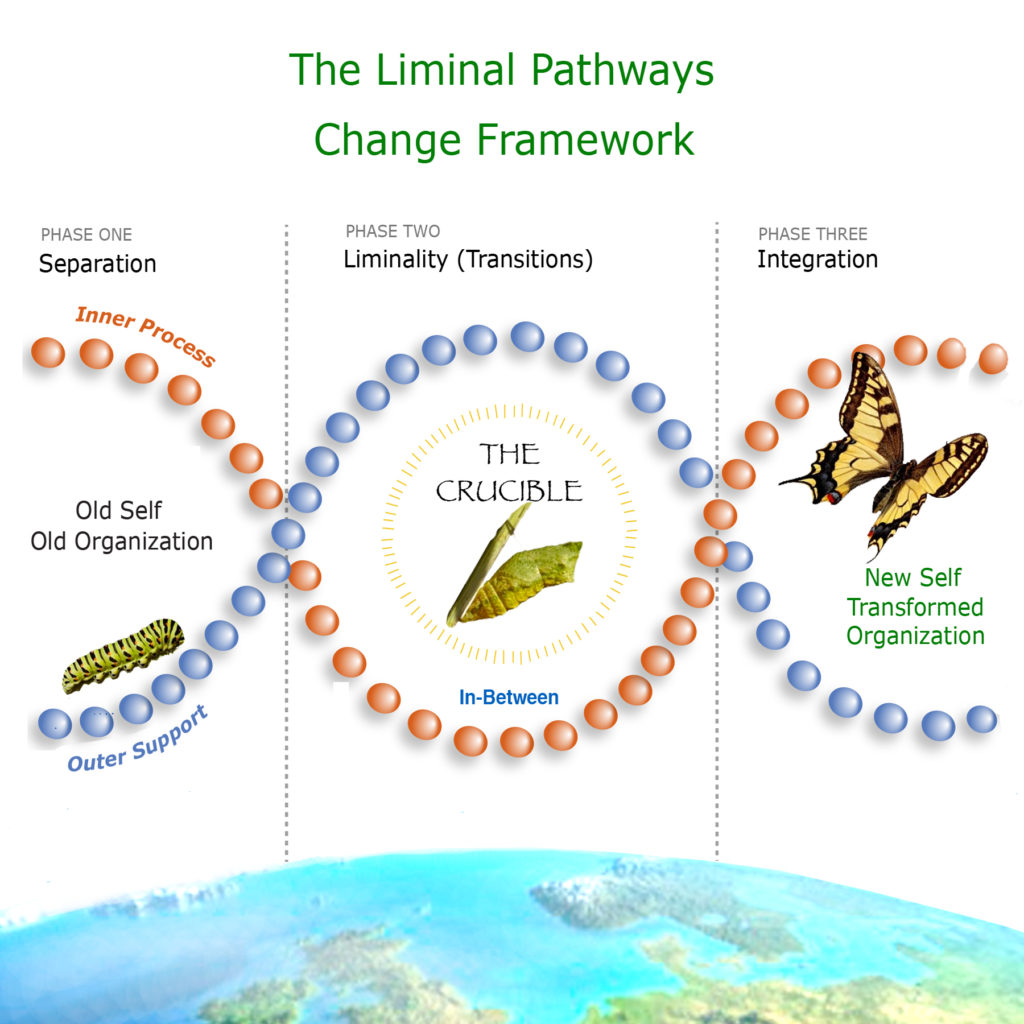 At this point we invited participants to "squint" at the frameworks rather than study them in detail. "Look at the big pattern—the core imagery," we said. "You can study them later." (So too, in reading this you will need to appreciate thinking about the "generative imagery" idea in this post, and save the other layers that deserve attention for future explorations.)
One of the important values of the Liminal Pathways Framework, we've found, is people seeing that in change, going through an ambiguous, uncertain, "liminal" space is not only inevitable, but natural. ("Limin" means "threshold.") So in designing a visualization of the framework, we illustrated this in-between space as an opening in two strands of process that traditional rites of passage always reflect. One is the inner journey of the participant. The other is the outer holding structure that supports the journeyer.
To amplify the idea of the middle, liminal stage, the image of a "crucible" emerged. A crucible is the ceramic bowl that chemists heat to recombine materials. This image invites thinking about the importance of turning up the heat in a change process; the need for a strong enough container to stand this heat; and how to create enough safety that people can enter into the "dissolving." It's generative.
A crucible is also a metaphor. It turns out Bushe and Marshak mostly mean "metaphor" when they speak of generative images. (Ironically their book has no graphic imagery!) Yet words are images, as poets know. In the Liminal Pathway Framework, the image of a crucible is indicated by the word itself, with only a few lines suggesting illumination and heat.
For the IFVP conference we added another generative image—that of a caterpillar becoming a chrysalis, from which emerges a butterfly. This biologic metaphor has a different feel, but a similar emphasis, in that caterpillars actually dissolve inside chrysalises, allowing their imaginal cells to recombine into a butterfly. This suggests as powerfully as the crucible the possibility of transformation.
People's response to using Gisela's Liminal Pathways framework in our Designing and Leading Change workshop has been so marked that we now reflect it our more comprehensive 7 Challenges of Change Model. Here we illustrate the possibility of "crucible" moments occurring at each stage of change.
(We'll share a LOT of this line of thinking with members of the GLEN, the Global Learning & Exchange Network, where we will be collaboratively writing a book on Visual Consulting.) But this blog post is only about generative images, so let's return to that story.
In the evening following our presentation we went out to dinner with Mary Alice Arthur (the conference emcee), Mathias Weitbrecht (founder of Visual Facilitators in Germany), Gurav Aurora (an Executive Coach from India), and Mara Callaert (founder of Visuality in Belgium). Our conversation turned to this idea of generative imagery as it relates to storytelling—a passion for Mary Alice, who is very interested in story activism. She shared the idea that storytellers are like "Trojan Mice" and can carry important stories in small and persistent doses.
Just the linking of these words "Trojan Mice" lit up our conversation. It's fresh. It's visual. It's generative. What kind of stories would mice carry? Are storytellers really mice? How many mice would it take to create systems change? This cascade of ideas is the sure sign of a generative image, I suspect.
Then she shared another longstanding generative image for her: a spider weaving a web. "It starts its web by leaping across a big gap, leaving a single thread of spider material. Then it starts around and around, but all during this it is sensitive to any tremors and can stop to capture food at any point. The building and the eating are combined."
As I listened, I had a flash of insight. What if I chose to commit to relating to these people past the dinner and into my life? Would this unilateral commitment be like throwing a line of web between us? What if my commitment had the kind of strength and flexibility of a real spider strand? I could then detect the tremors of change and emergent possibilities in our lives, all without contracts or "deals"—just by choosing to connect over time!
Could webbing up in this way be a new form of politics? What if they made the same choice? Could a whole network function to capture opportunities for change? Might we experience actual commitment, actual trust, actual relationship? Of course the power of the spider image on this particular evening was amplified by context, our having given talks about generative images earlier, and personal receptivity. But nonetheless I was rocked  by this image.
My takeaway from the dinner (we shared our takeaways in a little closing ritual) was appreciating this "spider politics and Trojan mice" imagery. I also experienced, in retrospect, another wind around the electromagnetic coil of interest in my understanding of Bushe and Marshak's observations about the common threads of creativity that are happening in the field of process leadership. In time I suspect this line of thinking will expand a great deal.