Mar 15, 2021
Mar 15, 2021h
in
Cognition & Communications
,
Collaboration Strategies
,
Community Building
,
Contribution to the Field
,
Graphic Facilitation
,
Leading Change
,
Mental Models
,
Organization Development
,
Social Change
,
Transformational Leadership
3 Comments
In his book American Soul, philosopher Jacob Needleman wrote, "The art form of the future is the group. The intelligence and benevolence we need can only come from the group, from associations of men and women seeking to struggle against the impulses of illusion, egoism and fear." This quote animated Alan Briskin's exploration of the headwaters of this idea at the first Leading as Sacred Practice (LASP) gathering in 2016 at Holger Scholz's Beuerhof Retreat Farm in the Vulkan Eifle region of Germany. To support the dialogue that resulted, we co-created this graphic of thought leaders we knew resonated with this idea.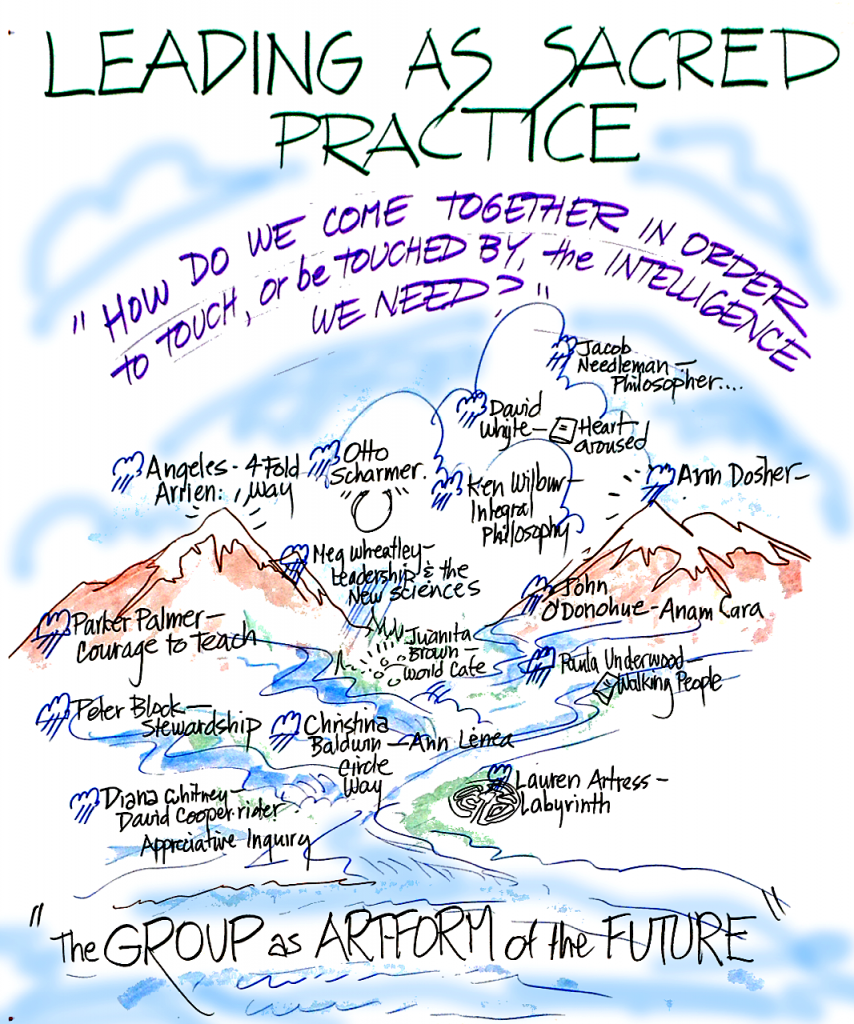 The four of us guiding Leading as Sacred Practice (Gisela Wendling, Alan, Holger and I) had begun calling ourselves a facilitation "Ensemble." We shared a deep interest in collaboration and supporting a mindset that values the whole human being— spiritual, emotional, mental, and physical— AND avoiding religiosity, ideology, and blind faith.
This first retreat sparked a shift in our work, and ignited a path of co-discovery. We have been meeting and working as an ensemble ever since through two more gatherings in 2017 at IONs Earthrise Retreat Center in Petaluma, and then in 2018 back at the Beuerhof.
We decided to take a gap year in 2019, and then for 2020 planned a larger conference. But COVID appeared and we delayed again. The pandemic pushed us to create a virtual version to continue the work, and the publishing of some of our findings so far in our LASP eBook. (We are giving this away for free in the description of our series of six LASP Online Exchanges starting April 23). Our learning focuses on six "ways" we have found to lead as sacred practice.
What is an Ensemble?
I was describing our ensemble experience to a close friend, Joe Ruffato, a musician and member of a Medicine Community that I am also a member of. I could explain the "ensemble idea" easily since the medicine community is very collaborative and Joe understands what this means musically. An ensemble is a group of musicians who play together. What is not embodied in the formal definition is the meaning that is understood by professional musicians. Joe told me a story that made the point.
"When I produced my first CD I worked with three professional musicians who brought piano, base, and drums to my guitar playing and singing of my songs. We worked through several studio sessions and produced a draft version. I then had a chance to talk to our producer about it and asked him what he thought. 'Do you really want to know," the man replied. 'Yes,' I said. "He then told me that I was over strumming and doing some other things that didn't completely balance, " Joe said. "I came away and put the CD on hold. So I practiced and then after some months came back with a completely up-leveled performance."
Joe went on to describe what he learned from the three musicians he had worked with. They all were very skilled in what they did, and all shared a sensitivity to the "ensemble" level of play. "They never filled the space to the detriment of the other musical voices," Joe said. "I realized that's what it means to be a pro."
And I realized in Joe's story this is what is means to be a good ensemble—to never fill the space in a way that works to detriment of another player. This means honoring the rotation of the spotlight in jazz. It means not over playing. It means listening to the whole.
Ensemble as An Artform for the Future
Having spent my adult life facilitating group process, I realized that the Ensemble idea we have used to guide our Leading as Sacred Practice work, might also be a form that could be replicated and even celebrated professionally in other group work settings.
More and more it seems that one of the shifts that we need to make as we come out of shelter-at-home and move into other escalating global issues like global warming, is to open to more imaginative "we" forms of working together. No single person is expert enough to respond to the systemic challenges we face. No solo player can lead the transformation changes necessary to work with them. Collaborative networks, action learning teams, and yes "ensembles" are needed to allow pooling of knowledge and learning as we move forward.
Groups can be the art form of the future.
Join us for the Leading as Sacred Practice Online Exchange Series. April 23, 2021, and experience one.