Apr 21, 2017
Apr 21, 2017h
in
Cognition & Communications
,
Collaboration Strategies
,
Contribution to the Field
,
Graphic Facilitation
,
Mental Models
,
Online Tools
,
Personal Development
,
Social Change
,
Transformational Leadership
,
Visualizing
1 Comment
I'm writing to share about a wonderful collaboration with Alan Briskin and Amy Lenzo creating a new "gyrocompass" image for their on-line, six session series on Activating Collective Wisdom, launching this June. The Five Practices of Collective Wisdom is a distillation of work Alan Briskin has been doing over many years on the subject. How this image came to be is a wonderful story of emergent creativity.
Some Context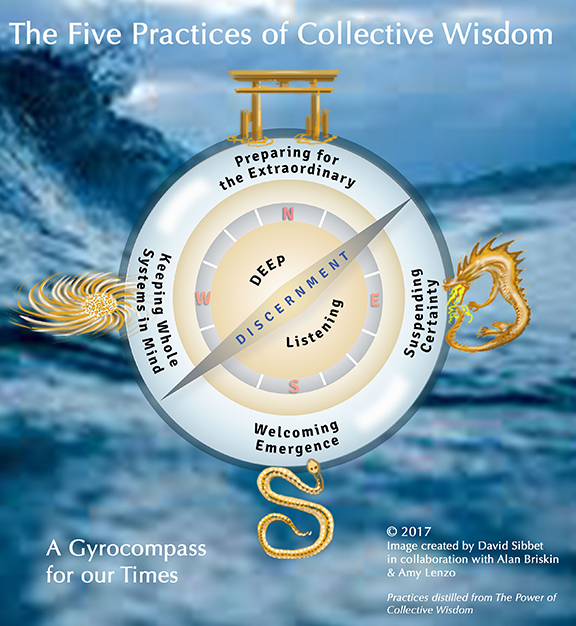 The collaboration began in Germany last year at the Leading as Sacred Practice (LASP) Retreat held at the Beuerhof Farm in the Vulcan Eifel region of Germany East of Cologne. Alan presented about these five practices and led a rich inquiry into what is deep listening, as well as how to suspend certainty, welcome emergence, keep the whole system in mind and prepare for the extraordinary when working with groups. I graphically recorded the session. Read more…