Apr 21, 2017
Activating Collective Wisdom
Apr 21, 2017h
in
Cognition & Communications
,
Collaboration Strategies
,
Contribution to the Field
,
Graphic Facilitation
,
Mental Models
,
Online Tools
,
Personal Development
,
Social Change
,
Transformational Leadership
,
Visualizing
1 Comment
I'm writing to share about a wonderful collaboration with Alan Briskin and Amy Lenzo creating a new "gyrocompass" image for their on-line, six session series on Activating Collective Wisdom, launching this June. The Five Practices of Collective Wisdom is a distillation of work Alan Briskin has been doing over many years on the subject. How this image came to be is a wonderful story of emergent creativity.
Some Context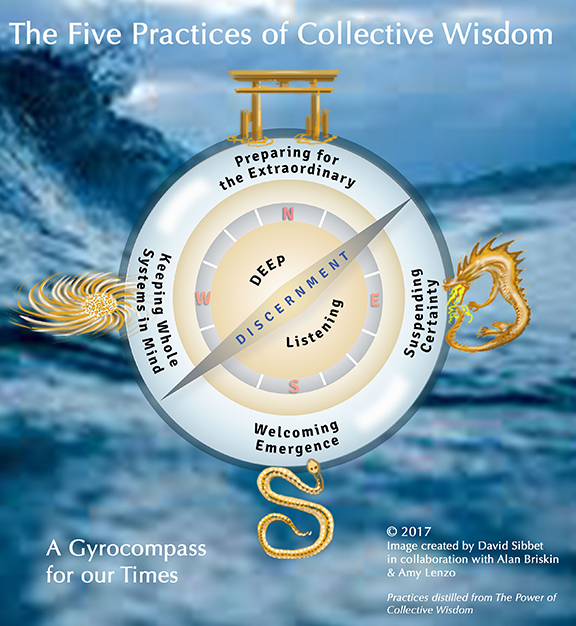 The collaboration began in Germany last year at the Leading as Sacred Practice (LASP) Retreat held at the Beuerhof Farm in the Vulcan Eifel region of Germany East of Cologne. Alan presented about these five practices and led a rich inquiry into what is deep listening, as well as how to suspend certainty, welcome emergence, keep the whole system in mind and prepare for the extraordinary when working with groups. I graphically recorded the session.
Alan loves real inquiry, and the group opened up to many insights in the interactive session. Response to the LASP event was so strong, by the way, that participants insisted on us organizing a second one, which we are leading this October at the Institute for Noetic Science's Earthrise Retreat Center in Petaluma, CA. (Click here to get information and a brochure.)
Alan and Amy are both part of the GLEN Allies group that has been stewarding The Grove's new Global Learning & Exchange Network (GLEN), with Leading As Sacred Practice being an example of the new inquiry-based "exchanges" we are organizing. The format for the Activating Collective Wisdom will be in this same "exchange" format. Amy is a master practitioner in the art of facilitating on-line dialogues (she's at the hub of the World Café and WeDialogue work.)
"I wonder if we could illustrate these in a generative image of some sort?" I offered, knowing that member understanding of these practices will become important to the GLEN as a whole as we evolve (and loving to "jam" with Amy and Alan). We began to talk. Both Amy and I have been working with the Native American medicine wheel. I began to wonder if the five practices might resonate with the N-S-E-W directions of the wheel. It looked promising.
We thought of metaphors that might reflect this archetype, but not be a wheel itself. The collective wisdom practices are all about how to guide our awareness in doing group work. Guiding? Orienting? Compass? Gyrocompass! The idea that sailors have found a way to stay grounded and oriented even in the fog appealed to Alan and Amy.
Let's Have a Visualization Session
"Let's have an on-line collaborative visualization session," Amy suggested. I agreed right away. So we linked up one morning in late March on zoom.us, with me sharing the Sketchbook Pro program I like to use on my Wacom Cintiq. (If you don't know about it, Zoom is a great hi-rez type of conferencing program).
Alan had already forwarded a gyrocompass image he found on the Internet. We quickly reviewed our earlier thinking, checking on the mapping of the practices to the directions. This is what we were looking at.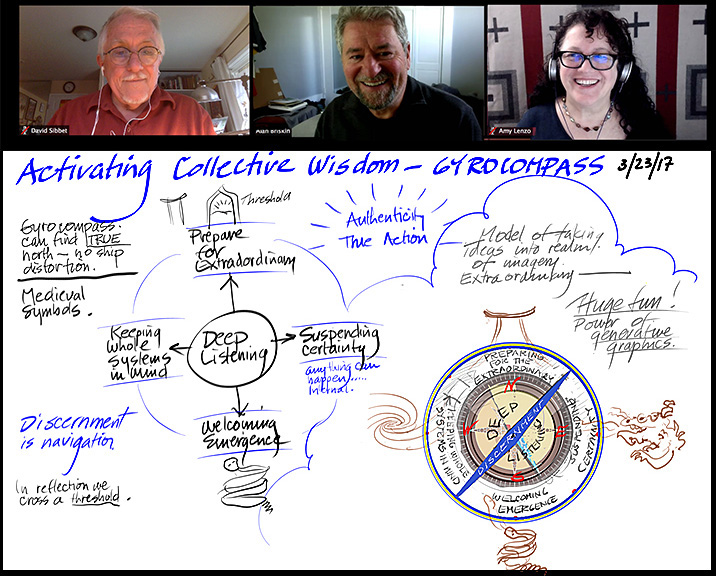 "Let's have rich images associated with each direction," Alan suggested. Deep listening felt like the compass itself—the central axis. Preparing for the extraordinary in the north is the outcome of all this. "It's like a gate we pass through as we learn to trust collective wisdom," Alan suggested. "What about a Tori gate," I said. "Oh yes," Amy agreed. "Let's find one we like on Google," I suggested. Hundreds of images appeared in less than a minute. We soon found one, all seeing the same screen.
"You know, the East is all about freedom and creativity and the rising sun in the medicine wheel tradition," I said. "When you suspend certainty, all kind of surprises can happen." "Like dragons," one of us said. "Dragons! Yes. The potential for magic." We looked at two dozen and agreed on the one that would be best. We needed one looking left into the gyrocompass and simple enough to draw small. This took a while!
Welcoming emergence in the South felt like shedding old skins to embrace the new. It was about trusting and inviting the new. The ancient symbol of transformation, the serpent, called to us. Images brought up the rainbow serpent of the original people in Australia that we all liked.
"The west is about the setting sun, heading into the dark of the night," I said. "That's when you really need an internal big picture." "The big system we are in is the universe," someone else suggested. Aha! Cosmos, galaxy! So we had our four.

I pulled the images into Photoshop, and then drew my own renditions in an amber color, hinting at old notebooks and journals. We had our base image, mapped onto the compass. We couldn't get over how fun this all was!
Initial Sharing
A couple of days later I was in a medicine wheel circle in Second Life, in which Amy is a member, and we shared the image. We were still buzzing about our process. Here's a screen capture of our Circle meeting. (You can see why the Tori gate idea appealed to Amy and me—we used them for the eight directions in our Second Life Medicine Wheel.)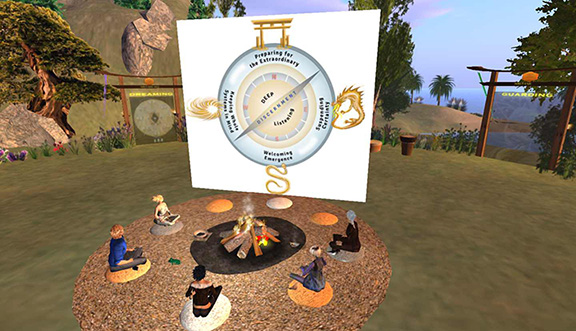 However, as exciting as this felt, it didn't feel complete. I felt the metaphor could be stronger, something people would get right away what it was—a gyrocompass.
And what is a tool without a context and an intention? It needed a stormy sea background! All of us are feeling the rising uncertainty and turbulence driven by factors such as political change, technology innovations, and climate change impacts. In uncertain times, that's when you especially need strong inner direction. It didn't take much time to find a good stormy sea image and drop it into the graphic.
Further Refinements
While the creativity part was over, we still weren't done. The image at the start of this blog is version 8. After the stable version, we began all the refinements, type, credits, and cleaning up the edges of the icon images. I find that really good infographic design takes as much or more work polishing as it does designing in the first place.
"Can I blog about this?" I asked Amy. "Absolutely!" This is our new GLENnish way—co-create, learn, and share! And this is how visual collaboration can work in a time of almost unlimited imagery, pulling from an entire globe of resources.
---
Click here to read all about the Activating Collective Wisdom program beginning in June.