Jan 27, 2017
My struggle to make sense of this new era of Trump has sent me back to my journals to look for longer threads and themes. I'm having an old feeling. It's one I associate with the time of the assassinations in the 1960s, the lying during the Nixon and Johnson years, and the warmongering of the Bush years. In such times of disruption in my mental model of a world that progresses—carefully inculcated by my post-war teachers—I am thrown into questions.
Finding myself back in the questions again, I came across a journal entry from December 1994, recounting a talk with my friend Bob Horn about postmodernism. Our talk began with a review of Walter Truett Anderson's schematic of the postmodern challenge: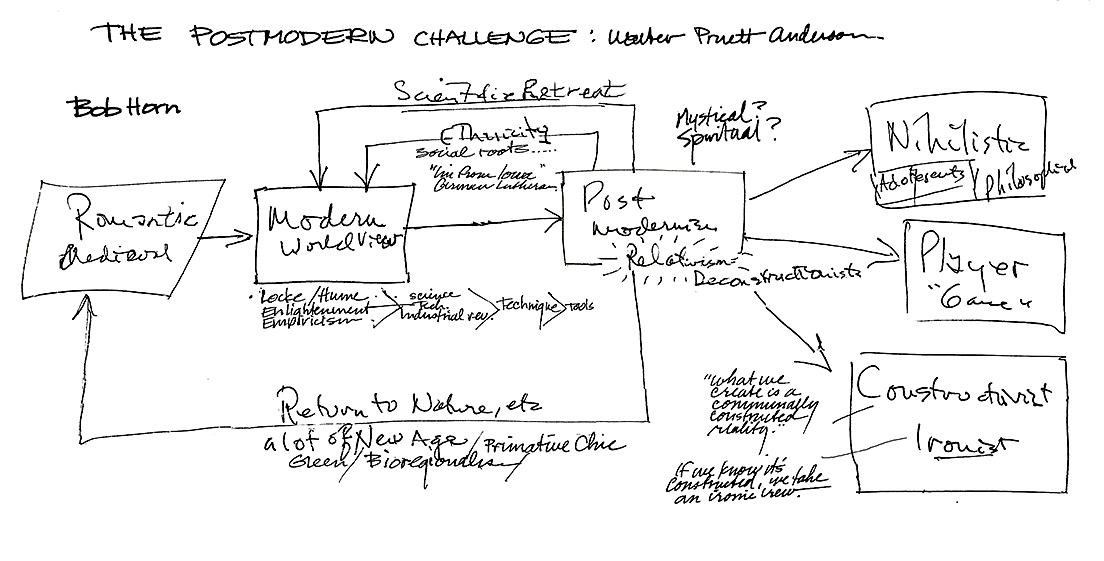 As Bob drew the boxes, I had wondered at the casualness with which he could lay down a box and label it "postmodernism", as if all the perceptions and theorizing and turmoil of the times could be neatly packaged in a historian's bow. "I won't say anything," I thought. "I'll listen past it to the meaning." Meanwhile, in my own mind I began to frame a story of fragmentation and return, of choices and confusion.