Nov 20, 2017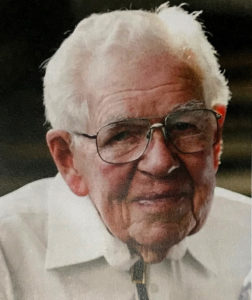 I like to think of my life as a tapestry, with all the threads from people who have influenced me woven together with my own abilities and interests. One of the strongest threads is from my godfather, Dr. Robert Denton, or Dr. Bob as people in Bishop, California called him. He died October 28 at age 95. I gave this tribute at his memorial Saturday, November 18, 2017.
---
"I met Bob Denton at age four when his wife Betty along with other leaders of the First Presbyterian Church in Bishop asked my father, Laing Sibbet, to be their pastor. Dad was fresh from seminary in San Anselmo and a pastor in the Two Rock Presbyterian Church near Petaluma. Bob and Betty took it upon themselves to introduce Dad and our whole family to the East Side—fishing, hunting, its people, and its culture of independence and resilience in the high desert.
Our families were very close, and I learned from Bob what it meant to be an adult man in service to a community. His influence has been a warp thread in my weaving—the long threads on the loom that hold the others as the years create their patterns.